A Beacon of Artistry in a Changing Greece
Introduction: The Artistic Renaissance of Greece
Greece, a country steeped in history and renowned for its contributions to the worlds of philosophy, literature, and art, has been experiencing a cultural renaissance in recent years. As the country emerges from a period of economic turmoil and political change, it has found itself at the center of a flourishing art scene that is attracting global attention. At the forefront of this creative resurgence is "Art Athina," the largest international art fair in Athens, Greece, which is celebrating its remarkable 30-year anniversary as one of Europe's oldest and most prestigious art fairs.
In this comprehensive article, we delve into the heart of Art Athina and explore how this event has become a symbol of the thriving art world in Greece and the surrounding countries. We also spotlight one of the newest entrants to the Art Athina stage, the Cypriot gallery "The Edit Gallery," and the captivating work of their represented artist, Johannes Holt Iversen.
Art Athina: A Journey Through Three Decades of Creativity
The Genesis of Art Athina
Art Athina traces its roots back to 1993 when it was founded by the Hellenic Art Galleries Association. At its inception, the art fair aimed to provide a platform for Greek contemporary artists and galleries to showcase their talents to a global audience. The event's mission was to bridge the gap between the vibrant Greek art scene and the international art market, fostering cross-cultural dialogue and exchange.
Evolution and Growth
Over the years, Art Athina has evolved and expanded, drawing galleries and artists from around the world. What began as a local affair has transformed into a global celebration of contemporary art, attracting collectors, curators, and art enthusiasts from every corner of the globe. The fair's commitment to showcasing innovative and cutting-edge works has solidified its reputation as a must-visit event on the international art calendar.
A Reflection of Greece's Resilience
Art Athina's enduring success is a testament to the resilience of Greece's cultural community. Despite the challenges posed by economic downturns and political instability, the fair has persevered, serving as a beacon of hope and creativity in the heart of Athens. It stands as a symbol of the Greek art world's determination to thrive in the face of adversity.
Highlights from Past Editions
Throughout its three-decade history, Art Athina has featured an impressive array of artworks, exhibitions, and cultural initiatives. Notable highlights from past editions include groundbreaking installations, thought-provoking performances, and thoughtfully curated exhibitions that have pushed the boundaries of contemporary art.
Art Athina 2023: A Milestone Celebration
The 30th Anniversary Extravaganza
The 30th edition of Art Athina, held in 2023, promised to be an unforgettable celebration of creativity and resilience. This milestone edition aimed to reflect on the fair's journey and its role in shaping the Greek and international art scenes. Under the theme of "30 Years of Artistic Evolution," the fair showcased the best of contemporary art while paying homage to its rich history.
The Edit Gallery's Debut
One of the notable newcomers to Art Athina in 2023 was "The Edit Gallery," a Cypriot art gallery with a burgeoning reputation for its commitment to promoting emerging artists from Cyprus and beyond. Their debut at Art Athina was met with excitement and anticipation, as art enthusiasts and collectors eagerly awaited the opportunity to experience their unique perspective.
Spotlight on Johannes Holt Iversen
One of the Edit Gallery's represented artists who made a significant impact during the fair was Johannes Holt Iversen. A Danish-born artist, Iversen's work from his "Lascaux" series garnered widespread attention. The Athenian magazine LIFO even featured his artwork on its front cover, making him a talk of the town in Athens during the art fair week. His work, characterized by its mesmerizing exploration of the relationship between nature and technology, resonated deeply with the fair's attendees.
The Intersection of Tradition and Innovation
Art Athina 2023 embodied the spirit of the Greek art scene—where tradition and innovation intersect to create something truly extraordinary. It showcased a diverse range of artistic practices, from traditional painting and sculpture to multimedia installations and interactive art experiences. This amalgamation of old and new, of the classical and the contemporary, offered visitors a unique insight into the multifaceted world of modern Greek art.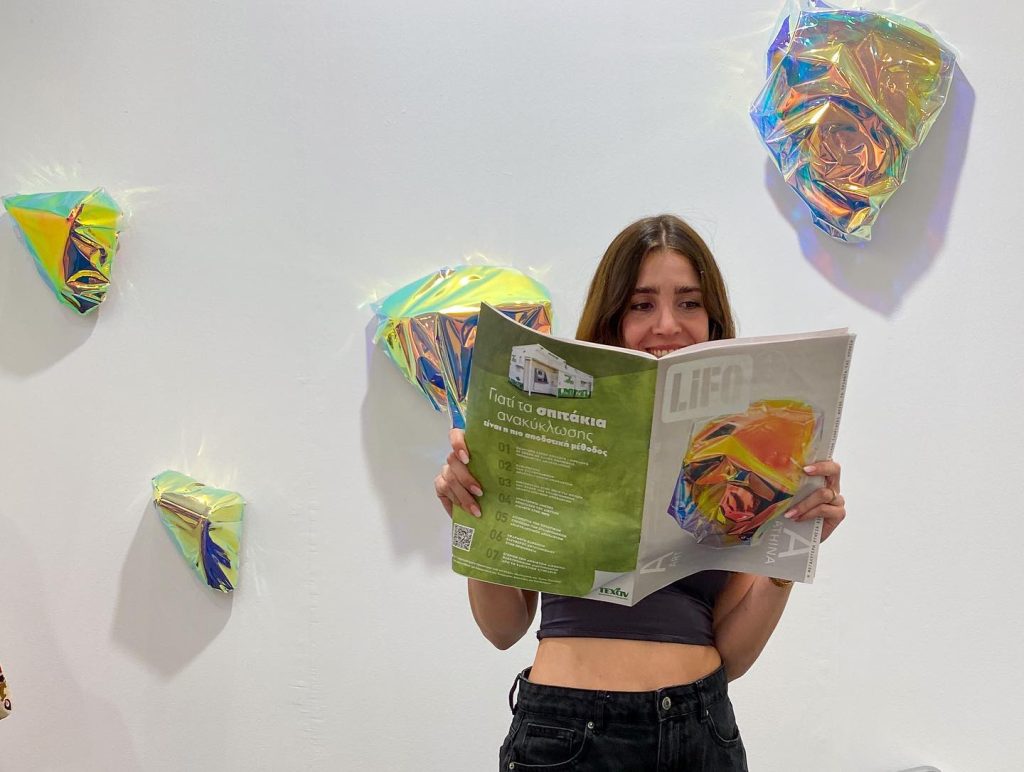 Art Athina: A Catalyst for Change
The Impact on the Local Art Scene
Beyond its role as an international art fair, Art Athina has had a profound impact on the local art scene in Greece. It has provided a vital platform for Greek artists and galleries to gain exposure on a global stage. Many emerging artists have had their breakthrough moments at Art Athina, and local galleries have expanded their reach beyond national borders.
Nurturing Cross-Cultural Exchange
Art Athina's commitment to fostering cross-cultural exchange has facilitated meaningful connections between artists, collectors, and curators from diverse backgrounds. This cultural exchange has not only enriched the fair itself but has also had a ripple effect on the broader artistic community in Greece and neighboring countries.
The Future of Art Athina
As Art Athina enters its fourth decade, it does so with a sense of optimism and anticipation. The fair's ability to adapt and evolve in response to changing times is a testament to its enduring relevance. It continues to be a vital force in shaping the artistic landscape of Greece and the broader region.
Conclusion: A Bright Future for Greek Art
Art Athina's 30th anniversary celebration served as a powerful reminder of the resilience of the Greek art world and its ability to thrive in the face of adversity. It showcased the remarkable talent that resides within Greece and the broader region, while also highlighting the transformative power of art in times of change.
With the addition of galleries like "The Edit Gallery" and artists like Johannes Holt Iversen, Art Athina continues to push the boundaries of contemporary art and nurture a thriving creative community. As Greece emerges from its tumultuous past, the country's art scene stands as a beacon of hope and a testament to the enduring power of human expression.
As we look to the future, it is clear that Art Athina will play a pivotal role in shaping the artistic landscape of Greece and the surrounding countries, ensuring that the region remains a vibrant hub of creativity for generations to come.